Our spacious and ever-changing showroom in Musselburgh, by Edinburgh, is where you'll find our latest ranges and the latest technology to bring designs to life. You'll soon feel right at home, and our staff are always on hand to offer expert advice. Come and find out how a Redpath Interiors kitchen or bathroom will look in your home. And should you be interested in a garden room, we have a fully constructed example outside our showroom so you can experience it before you buy.
---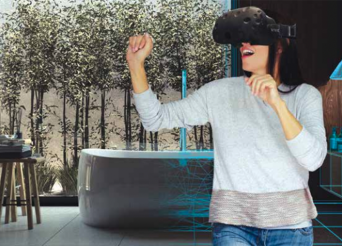 VIRTUAL THEATRE
The ultimate try before you buy immersive experience. We were the first kitchen and bathroom design and installation provider in Scotland to offer this fascinating virtual reality technology. It allows you to step into your new room before any commitment is made to refurbish it. From the comfort of our showroom studio booth, you put on a headset and begin exploring your future bathroom or kitchen in vivid detail – allowing you to get a real sense of space, functionality and detailing.
Virtual Theatre also gives you the opportunity to interact with the design: so you may find yourself running a bath, using the cooker, opening drawers and adjusting the lighting. The only limit to the technology is your imagination, with countless customisation options available to fine-tune things in line with your personal preferences.